Miss G fractured her foot today. The day was initially spent on a day time date with my Mister DCT - a phone call from the beautiful school receptionist was one of those calls that says it's time to pick up your child!
Miss G was so brave all day, albeit sad when the doctor refused to put a cast on. New shoes was his advice, so off to buy some not so Miss G style 'good' shoes (not mary-janes or something pretty).
As we sat in the waiting room of the hospital I was thinking of blogging. Taking photographs with my dinky camera does not look oh so professional - you know! Anyway, that didn't stop me, there was some red to capture. I refrained at the thin red line and my boots, but there was also a stunning RED telephone on the wall that could of been a blog photo prop!
I have been having a bit of a sook this week to my Mister DCT. Then this morning I read
this blog
. I think I was meant to read it. Funny how things are put in our path. The honeymoon period of moving across one side of Melbourne away from our home of 15 years, has ended. I have been feeling lonely, and wondering what have we done. It is easy to remember why we moved when we take the children to their great school. But when I look around at our house which I crazily thought would be renovated and finished in 3 months - I have been feeling a bit fragile and spoilt.
My Mister DCT posted something on my facebook page today - a little practical joke about our old house being back on the market. As I read Farm Girl Paints blog today, seeing her gorgeous home - as a friend said a few months back - I had house envy.
It is a bit tricky to remember what He does for us and His plan, when we live in this world. A world that strives for beauty and perfection materialistically. I know His plan was for our children to be at their new school. What is the rest of the plan?
While I often show you pictures of prettiness, I thought it was time today to show you why I am feeling just a tad fragile! I am trying, I really am to be thankful for what we have. I am thankful for all the pretty things, the trees, my huge window. But when you come from this bathroom....
To this one, which I stupidly, naively and crazily ignorantly thought would be renovated in our first month. I can't even show you the most horrible part of this bathroom.
From this space and airiness....
To absolute cosiness... (that we did choose - and I know this)....
I need one of the reality checks we often get. How we Westerner's can be so ungratful - I am behaving and feeling very 'fragile' at the moment. I need a reminder. I am grateful to have mould and a closed door with running water, compared to this...
Photographed from
this blog
, showing a personal account of slums in India. We wanted to simplify, we wanted to downsize, we wanted to follow the calling in our life. Why is it feeling a challenge right now? After reading the Farmgirl Paints blog, seeing gorgeous homes in the US, a bit of a google search found some darn good buys.... much better value for your dollar in the US than we get for our Australian house prices - we could have a mansion for what we pay here. Crazy. Vent, vent, vent.
Now, the second purpose of this post was to join in for
Yarn Along with Ginny
- who I just adore and wonder if lovely people like Ginny ever have these thoughts and anxious worries.
The Master J's jumper,
ravelled here
(never mind my mistakes and crazy use of 8 ply rather than chunky). It is coming along slowly.
It really is amazing how knitting brings a peace. I will keep clicking away as I ponder what we are meant to be doing. Another adoption story popped up today as we were on our date - only to be a wonderful account of a family from the US.
Reading the Tim Winton novel still, it's a bit slow going - but I cannot get myself into anything else.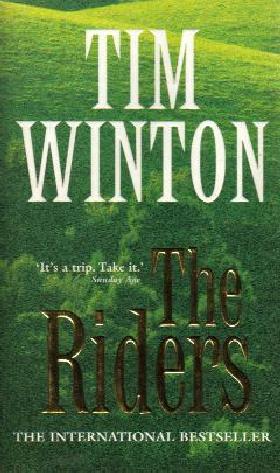 Thanks for listening - sorry for rambling and venting. Do you ever feel this way? I feel like I am walking a thin red line.